For organizations that value the security of pull printing and the flexibility of mobile solutions, we at PrinterLogic are excited to announce our dedicated Print Release App for iOS and Android.
Hot on the heels of our feature-packed 18.3 update, this all-new app complements and can be used in place of PrinterLogic's other pull-printing release options. These options currently allow for secure user authentication through standard web browsers, badge/card readers and compatible printer control panels.
Whether your organization has already implemented PrinterLogic's secure pull-printing feature or is looking to roll out our versatile, cost-effective secure printing solution, the Print Release App brings three distinct advantages.
1. Ease of Use
With PrinterLogic's Print Release App, end users can conveniently view, select and release their held secure or mobile print jobs right on their smartphones. It's as simple as tapping on the app icon, choosing their job from the list and selecting a destination printer. They'll then get an on-screen notification when their job is released.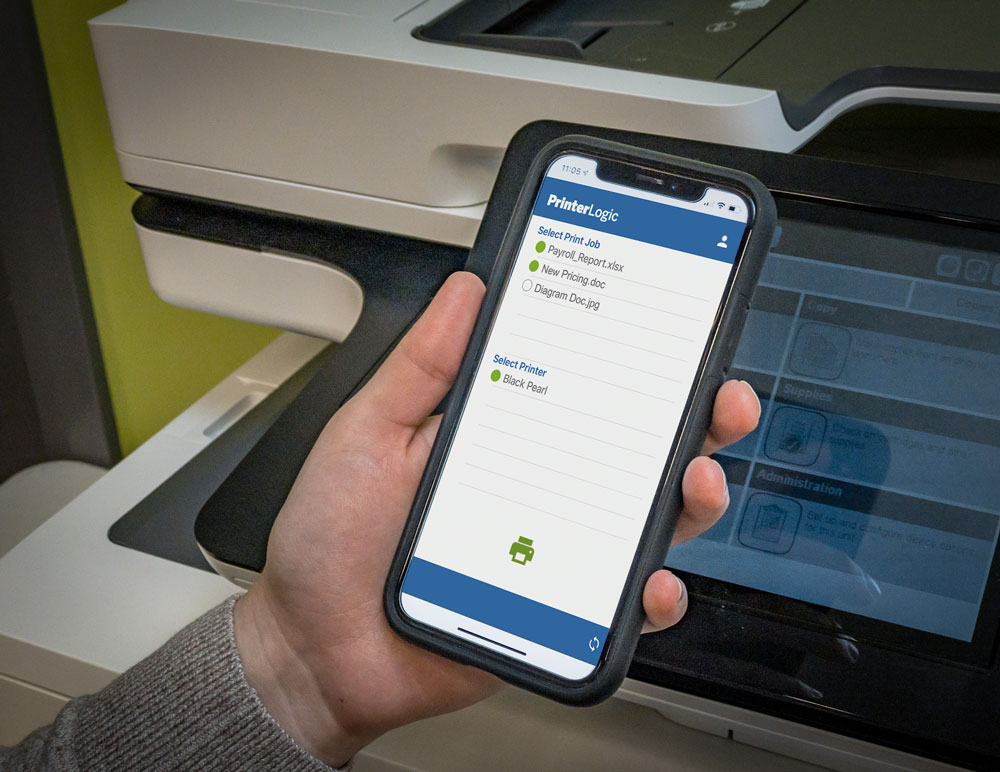 The list of available printers a job can be released to will update as jobs are selected.
Instead of signing in and authenticating each time they need to release a print job, end users only have to enter their credentials into the Print Release App once. The app automatically authenticates their login details from that point forward through PrinterLogic's seamless integration with Active Directory. That convenience expedites end users' printing workflows and makes secure pull printing a more attractive option for regular use. It's equally easy on admins; as the Print Release App is user-accessible through the two major smartphone software channels, it doesn't have to be provisioned separately.
2. Reduced Infrastructure
To fully support secure pull printing, organizations have typically had to provide dedicated hardware infrastructure for the release step. This could be anything from a networked badge reader to a discrete mobile device in kiosk mode situated next each printer.
By leveraging the mobile phones end users already have and know how to use, the Print Release App eliminates the need to procure or maintain any release infrastructure at all. Furthermore, the advanced biometric authentication mechanisms that exist in today's smartphones act as a built-in gatekeeper, making app-based release equally—if not more—secure than ordinary PIN codes or even badge readers.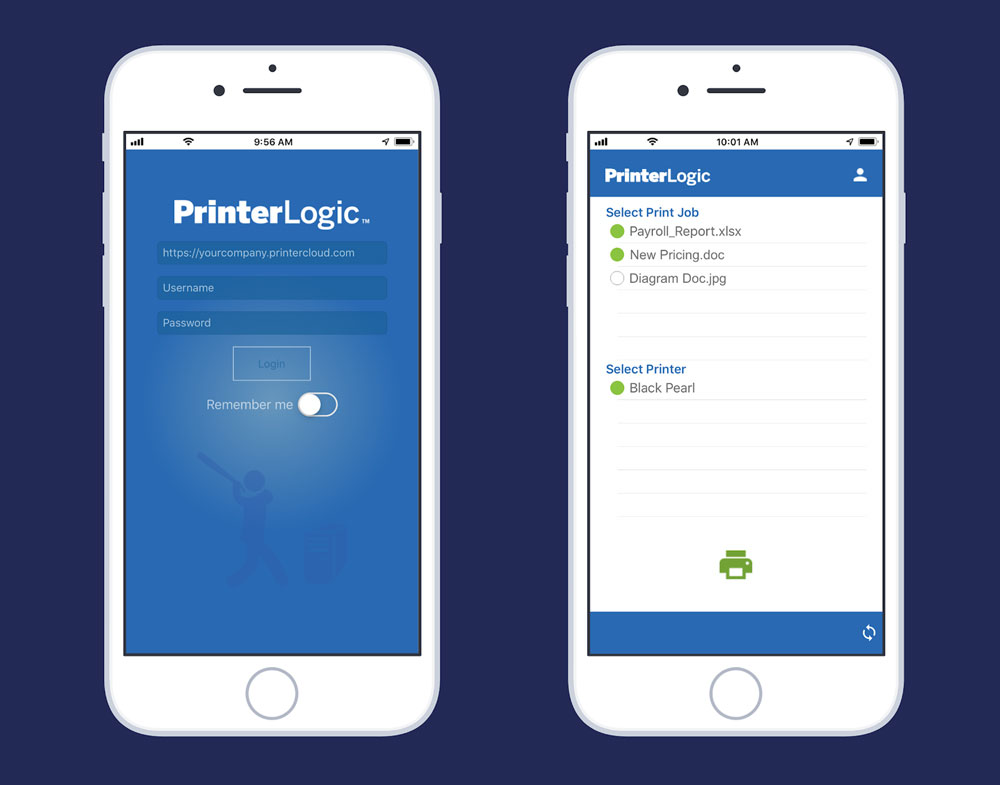 Sign in and select "Remember me" to save your login for later (left). Select your printer and tap the green printer icon to release (right).
This infrastructure independence is in line with our longstanding mission to eliminate print servers and empower end users through features like our self-service printer-installation portal. Likewise, it makes the Print Release App the ideal companion to our zero-footprint SaaS solution, PrinterCloud.
3. Universal Printer Support
The Print Release App works with any networked printer. It doesn't matter if it's a legacy device or a generic inkjet. As long as it can be connected to the organization's PrinterLogic print environment, it can function as a secure pull printer.
Not only does this universal support enhance the flexibility of PrinterLogic's pull-printing solution, it also has the potential to save additional costs, as organizations won't be forced to purchase new or updated printing devices. End users will enjoy the practicality of securely releasing print jobs to any authorized printer in the workplace, and budget-conscious executives will appreciate the ability to derive more value from the existing printer fleet.
Download the Print Release App Today
PrinterLogic customers with pull-printing or mobile licenses can download the Print Release App on the iOS App Store or the Google Play Store today and immediately begin releasing their print jobs using this convenient, cost-saving method. If you'd like to know more, please read our Print Release App FAQ.
Not yet a PrinterLogic customer? Try our serverless print-management software in your organization for 30 days at no charge. The new Print Release App is just one of the many ways our next-generation solution can augment the manageability and capabilities of your enterprise print environment.