Security is a hot topic in the technology field and print management security shouldn't be left out of the conversation. Confidential documents being printed each day, IT staff is at work to make sure the right people access the right printers, and even integrating with existing security technologies such as badge readers at the printer are all needing to be managed better. As infrastructure is moving to the cloud we can start looking at PrinterLogic SaaS (formerly PrinterCloud), to start addressing these security issues.
We'll cover three topics that PrinterLogic SaaS will help with:
Give print access to the right people
Hold print jobs until users are in front of the printer
Use badge swipe to release held print jobs
PrinterLogic SaaS gives IT administrators and help-desk staff the ability to manage network printers without the need of a print server. Included in the management capabilities is the ability to auto-deploy printers as well as publish printers for self-installation without needing to setup complicated GPOs or scripts. For example, you can target Active Directory Users, Computers, Groups, Containers, and OUs to automatically install printers. This guarantees that users will automatically have printers installed that IT staff knows they should have installed.
PrinterLogic SaaS also has a self-service installation web page that users can access to install printers on their own. They find a printer on a floor plan map or in a list, click on it, and select "Yes" to install. On the backend, IT staff can make sure that the printers are published to the correct users by using PrinterLogic SaaS's portal security filters. The filters include:
Active Directory User
Active Directory Computer
Active Directory Group
Active Directory Container
Active Directory OU
IP Address Range
Hostname
MAC Address
An example would be with an executive's printer. You can isolate that printer in the PrinterLogic SaaS management interface to only show up on that executive's self-installation webpage and no one else's.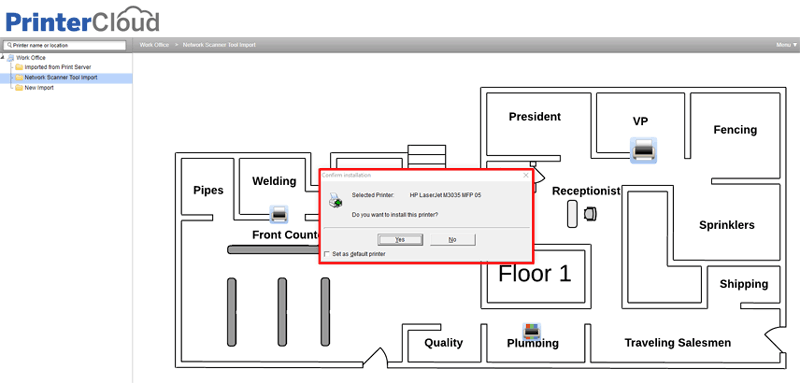 Now that we have the correct printers to the right printer, let's address holding sensitive print jobs until users are in front of their printer. PrinterLogic SaaS calls this Secure Printing. With PrinterLogic SaaS's Secure Printing, users can securely send a print job to the printer, choose to hold it, and then walk up to the printer to release the print job. They can authenticate using their Active Directory credentials on a web based release portal using their phone, tablet, laptop, or a kiosk device that has internet connectivity. This will present a menu where the users can select a job to release and it will print to the printer are in front of.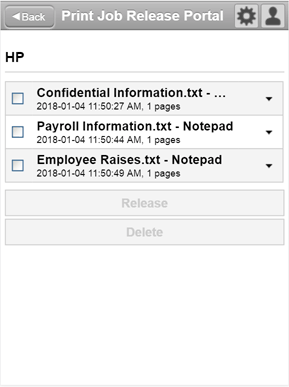 PrinterLogic SaaS can take advantage of security badges today by using a printer application that is designed to be installed on certain models of Ricoh, Lexmark, and Dell (Lexmark) MFPs. What this allows a user to do is send a print job from their computer, walk up to the printer, select the PrinterLogic SaaS icon on the MFPs touch screen, and swipe a badge to release the print job. It is required that the Ricoh MFPs be on platform 10, 11, and 12 and also have the Java module added to them. The Lexmark machines need to be on framework 3.x, 4.x, or 5.x. PrinterLogic SaaS will continue to add more make and model support.
With the ability to now easily distribute printers to the correct people, IT staff doesn't have to worry about anyone erroneously printing to HR printers, executive printers, or to specialty printers such as plotters and receipt printers. HR and Finance departments can safely print their documents without racing over to the office MFP before someone sees their sensitive documents. We find that users become more accountable for what they are printing and paper waste is actually eliminated when using the secure print feature.
To see all these features and more, all you have to do is go to www.printerlogic.com/printercloud and click "Start Trial." That will give you all the access you need to start securely managing your network printing environment.