Posted by Jordan Pusey
With the latest release of PrinterLogic Web Stack (formerly Printer Installer), customers now have the ability to tie printer costs to actual print job usage data. This helps IT and operations understand the true cost of printing throughout the organization. With this information, you can initiate cost reduction initiatives, change end-user printing habits, purchase more efficient printers and create cost-saving profiles to reduce waste throughout the organization.
Years ago I tried to authenticate to our cell phone carrier with my work's address. After trying several addresses, we realized that none of them worked. It turns out that our carrier was sending the paper bill right to a shredder after we requested a "digital" copy for all our employees. If management in the cell phone company had understood the costs of printing, they could have found some of these egregiously wasteful practices.
What an eye opener. Imagine if you were responsible for a division of employees and you received a nice little report that showed the costs of printing in the organization. Armed with this data you can now educate your employees to reduce print jobs and save money. For instance, maybe your employees have a habit of printing their emails. Even worse, they print them single-sided and in color! Now you can identify the waste, train employees and optimize your printing costs.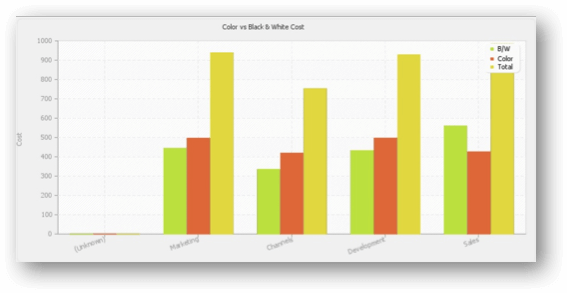 PrinterLogic's job costing feature enables IT to define cost templates associated with printers individually or across the entire organization. Simply enter the cost per page for each type of page printed including color, black and white and duplex. Add new paper types as needed such as legal or A4 for Europe. To find per-page costs, take the cost per page published by your vendors, from calculations based on your actual printer consumables, or from what your MPS charges.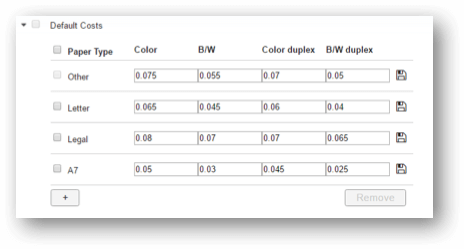 The "Default Costs" template will apply to every printer you define in PrinterLogic Web Stack. If you have specific models or types of printers, you can create additional templates and apply the newly created templates to each printer.
Now that you have a way to track costs, you may need to share the information with key executives. Role-based access control in the admin console allows IT to give permissions for reporting-only purposes to share reports with managers and executives. If you do not want to manage additional logins for casual users, you can send reports to anyone in your organization via email. Simply setup the report you need and schedule it to process and send updates daily, weekly, monthly or quarterly.
Automated print job reports in PrinterLogic is a great way to educate your company on printing costs. Speaking of education, I was on a phone call the other day where a school district was so excited about scheduled reports because they can now send a monthly report to each principle in the district. Scheduling it, means they don't have to think about it again. This saves them hours of time over a manual process.