Posted by Philip Sellers
Written by Philip Sellers. Originally published in Techazine.com, May 29, 2018
The requirement: secure and centralize print management. But moving traditional Windows print servers into your datacenter will cause a lot of WAN traffic from your branches. WAN links are expensive and bandwidth is a premium resource. Even with SD-WAN solutions that enable companies to use standard internet, instead of MPLS circuits, for branch connectivity, the bandwidth is usually limited. On top of bandwidth issues, print sessions cause bursts of traffic that can trigger other performance issues for users. All around, it's not a great situation.
Enter PrinterLogic, a St. George, Utah based company that does printer management and enables direct-IP printing, avoiding the WAN entirely. The PrinterLogic solution is straightforward and easy to manage. It allows the centralized control and reporting of a single print server while avoiding the cost and problems associated with moving print data from the branch to the datacenter and back again.
Management Server
PrinterLogic employs a main management server—called the PrinterLogic Web Stack (formerly Printer Installer) server—that is primarily a discovery and management point for their solution. This web application allows administrators to set up lists of printers organized by site locations with nice features like maps and location discovery. PrinterLogic Web Stack also allows profiles to be created and the printer driver to be centrally administered and configured.
Getting started is a breeze, and there are two different ways to set up printers. First, you can point PrinterLogic to existing Windows print servers and import printers, drivers and default configurations directly into the product. The second is a network discovery method that allows you to scan and find any previously unmanaged printers in the environment.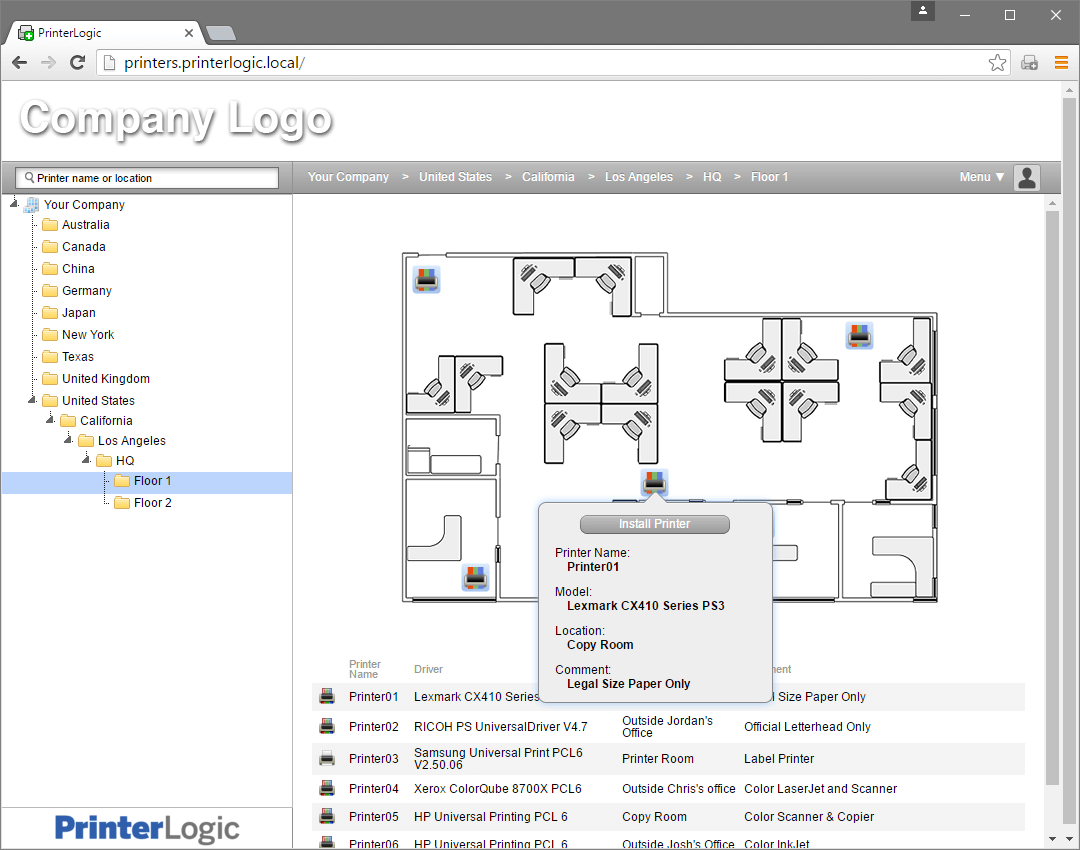 Figure 1: PrinterLogic automatically imports printers from existing print servers and maps them by location.
The main management server is also a reporting server, allowing administrators to gain insight into their print environment, including unmanaged printers that may be connected to managed workstations. While PrinterLogic doesn't make any changes to these unmanaged printers—even USB connected printers—it does allow administrators to get analytical data about these devices to be able to bring them into a managed situation or replace them.
Client Agent
The other component is the print agent (aka client) on each workstation. This agent is the primary access method for users. With a click, it launches you into the web portal so you can add and discover new printers. Users can self-service and find the correct or closest printers. Assistance is provided by automatic correlating IP subnets to locations and defaulting users to those locations.
Once the print agent is deployed, any currently configured printers will automatically be converted for you. This is a huge aid for deployments and bringing all the systems and printers into management. The only real work required is deploying the agent to your workstations which can easily be accomplished with SSCM or scripts.
Licensing & Optional Modules
PrinterLogic licensing is very straightforward also—with the base licenses enabling everything discussed so far and licensed based on the number of printer objects. One of PrinterLogic's big sales pitches is around reducing the number of queues required for different use cases by allowing a single printer object to have multiple profiles and even print drivers associated for different use cases—like Windows workstations versus a Citrix server. With that, the licensing would roughly equate to the number of printers in your environment.
In addition to base licensing, PrinterLogic offers two optional modules for pull printing and mobile printing. These capabilities are licensed in the same way, by the number of managed printer objects.
Pull Printing
Pull printing and release printing are ways to describe the same basic functionality—printing to a queue where the job is held until you walk up and release it from the printer. You can release by authenticating with user and password, with a proximity badge, or by authenticating with your mobile phone. When you print a job for a 'virtual queue' the job is held at your personal workstation until it is released. This is another way PrinterLogic avoids WAN traffic—by keeping the job onsite since it will likely be released in the same site without having to cross a WAN link.
Mobile Printing
Mobile printing is exactly what it sounds like, enabling printing from phones and tablets. Since these devices are not necessarily on your internal network—possibly sitting on a cellular or guest WiFi network, the printing method changes a bit; however, mobile printing looks a lot like pull printing. Instead of holding a job in a local queue at the workstation, in the case of mobile printing, the queue is at the main management server.
Cloud Option
PrinterLogic also offers a print management solution in SaaS form, where they host and manage all the infrastructure of your printing environment, and you simply have to configure your printers using a web console. Dubbed PrinterLogic SaaS (formerly PrinterCloud), the solution is targeted to SMB users. While it doesn't offer every feature of the on-premises version, it is a great solution for smaller environments where IT wants to avoid the local infrastructure. PrinterLogic says PrinterLogic SaaS currently has 95%+ feature parity with the full version, and that one exception is fewer choices for pull-printing release mechanisms. The company is working on closing this gap.